There is a Department of Defense (DoD) program that allows service members within 180 days of separation to work at a company AND THE MILITARY PAYS THEIR ENTIRE SALARY.
That's right!
Through the DoD Skillbridge Program, service members can work full-time at a company for 4 months, learn more about corporate culture, gain experience in their desired field, and get their foot in the door to be hired upon completion (depending on performance).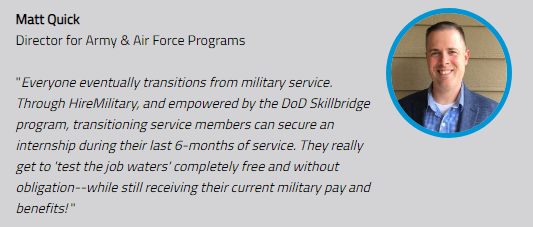 Companies access talent up to 6-months before their competitors without having to pay salary or benefits for the entire program. In most cases, companies basically get a 4-month interview without the requirement to hire if it isn't the right fit.

It's an absolute WIN-WIN for all involved.
DoD Skillbridge vs CSP vs EST
The Army & Air Force call it the Career Skills Program (CSP), while the Navy & Marine Corps call it Skillbridge Employment Skills Training (EST) Program.
They are the same program, just administered differently by the services.
Interested in Learning More?
Follow HireMilitary (on LinkedIn) for updates on rules, opportunities, guidance, success stories and events. Service specific regulations and details are also listed on the website (hiremilitary.us)
Create your own program or use one of the available resources, but this is ABSOLUTELY the most valuable program out there for veteran employment & retention!
Army Career Skills Program (CSP)