Retention Control Points (RCP) are for enlisted Soldiers serving on active duty across all Army components. RCPs apply to Soldiers serving in the RA, Soldiers of the U.S. Army Reserve (USAR), and Army National Guard of the United States (ARNGUS) who are serving under the Active Guard Reserve (AGR) Title 10 (10 United States Code (USC)) programs. RCPs do not apply to Soldiers serving in the USAR or ARNGUS who are mobilized or assigned to the Individual Ready Reserve (IRR) or a Troop Program Unit (TPU).

Army Directive 2018-22 (Retention Policy for Non-Deployable Soldiers), 8 November 2018.
Soldiers who exceed their RCP as a result of their reduction in grade or removal from a promotion list must retire or separate from the Army no earlier than 90 days or no later than 180 days after effective date of their reduction in grade. Soldiers with 18 or more years of active Federal service who exceed their RCP as result of a reduction in rank may serve to meet the minimum retirement eligibility unless involuntarily separated by the Secretary of the army or his designated representative.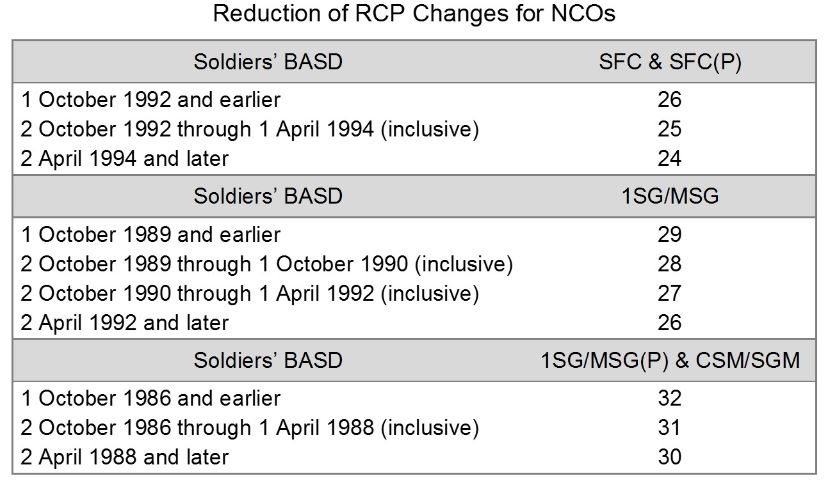 A phased roll-back mitigates the risk to individual Soldiers and other Army programs.
Notes:
1. Active service is defined as service on active duty.
2. CSMs and SGMs at HQDA and ACOMs, serving in nominative positions where the CSM or SGM is rated by a general officer, member of the Senior Executive Service or equivalent; or serving as CSM at the U.S. Army Sergeants Major Academy or as executive officer to the Sergeant Major of the Army are authorized to serve past 30 years total active service while serving in the position. The Vice Chief of Staff of the Army must approve exceptions for operational reasons. Upon leaving a position which authorizes service beyond 30 years, NCOs who have not applied for retirement will be classified using special reporting code 09U (see note 4).
3. Promotable only refers to RA and USAR. There is no "promotable" status in the Army National Guard (ARNG) AGR Title 10 Program. ARNG AGR Title 10 Enlisted Soldiers' retention control point is established at the "non-promotable" grade
4. The retention control point for Soldiers classified in reporting code 09U is nine months from the effective date of classification.
5. Soldiers selected for promotion in the rank of Sergeant first class and master sergeant by a HQDA centralized board will no longer attain an extended retention control point until actual promotion pin-on to the higher rank