As an exception to policy (ETP), the Retention Control Point (RCP) for Regular Army promotable Soldiers who are serving, or scheduled for training in, a balanced or shortage MOS, as announced on the current update to Reclassification In/Out Call MILPER Message, will be extended as follows: promotable Soldiers in the grade of E4 to 10 years active Federal service, and promotable Soldiers in the grade of E5 to 15 years active Federal service.
This ETP only applies to Soldiers who are otherwise fully eligible for retention (e.g., Soldiers with an Immediate Reenlistment Prohibition Code of 10, 11, or 9G). This policy message serves as the source document for the ETP. No further documentation is required (e.g., DA Form 4187).
This ETP does not pertain to Soldiers already on transition leave, or whose ETS date is on or before 15 November 2019. However, if these Soldiers request continued service, and are subsequently approved by their immediate Commander, will become eligible for this ETP.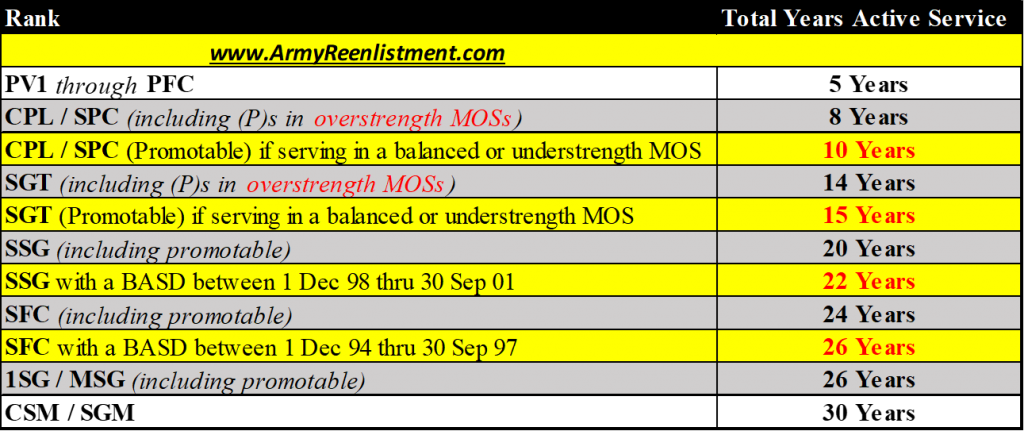 Army Directive 2018-22 (Retention Policy for Non-Deployable Soldiers), 8 November 2018.
Soldiers who exceed their RCP as a result of their reduction in grade or removal from a promotion list must retire or separate from the Army no earlier than 90 days or no later than 180 days after effective date of their reduction in grade. Soldiers with 18 or more years of active Federal service who exceed their RCP as result of a reduction in rank may serve to meet the minimum retirement eligibility unless involuntarily separated by the Secretary of the army or his designated representative.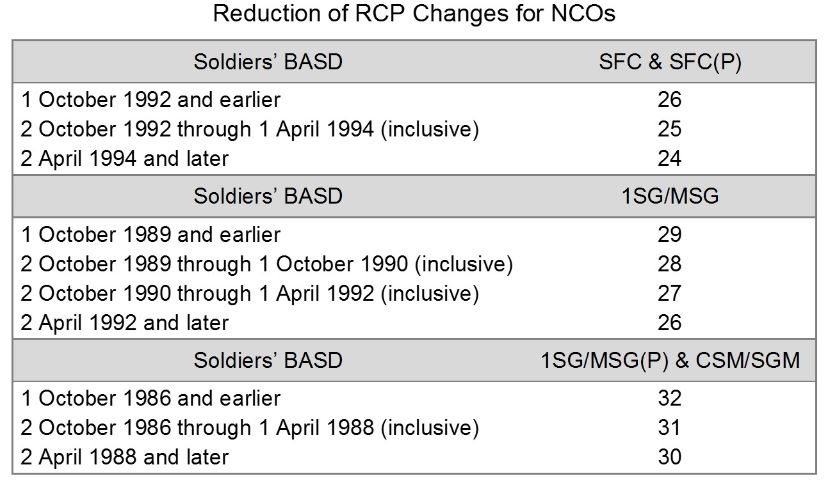 A phased roll-back mitigates the risk to individual Soldiers and other Army programs.
Notes:
1. Active service is defined as service on active duty.
2. SGM/CSM serving in nominative positions where organizations are commanded by general officers, Sergeants Major that serve as the principle staff SGM at the HQDA level may also be considered nominative, and certain other SGM positions considered as nominative at the discretion of the Sergeant Major of the Army are authorized to serve beyond 30 years total active service while serving in these positions. In these cases, the SGM/CSM Expiration of Term of Service (ETS)/RCP will be established by HQDA as their projected change of responsibility date (PCORD) plus three months. SGM/CSM must submit their retirement 8-12 months from the established ETS date. Those who fail to submit retirement before PCORD will be reclassified in Special Reporting Code (SRC) 09U (see note 3).
3. The RCP for Soldiers classified in reporting code 09U is 9 months from the effective date of classification.